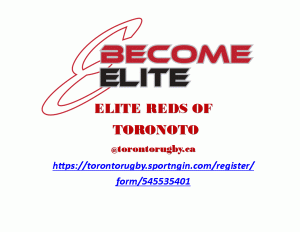 TRU Red's Elite 7's is holding an Open Talent ID Session! 
August 13th, 2:30 pm to 4:30 pm at Fletcher's field
This open Talent ID session is for U16 & U17 Ontario players that are interested in becoming a part of the TRU's Elite Red's 7's
High-Performance Program. Top coaches deliver National Key Theme based Core Skills and Tactical game sense based rugby leading up to some of North America's oldest and largest 7s tournaments; NY 7s, MAG 7s and Summer Games 2018. The Red's program is part of the official pathway to the Olympics and Team Canada age grade. Including TRU Elite Red's Brooklynn Feasby, Hannah Daniels and Khadija Brouillette all being named to the Canada Commonwealth Games team "It's a privilege and honour to play for my country. We look forward to preparing for some hard competition like Australia, South Africa, and Wales. Hopefully, if we play our best we will be in a position to win a medal, said Khadija Brouillette." 2016 Elite Red
DOB; 2000 & 2001. August 13th, from 2:30 pm to 4:30 pm at Fletcher's Field.
Registrants will need to pay a $20 sign up fee to attend. Returning players from the first session on July 23rd will only need to pay $10. They can sign up at the following link. https://torontorugby.sportngin.com/register/form/545535401
**Please note: To be able to register, players must be fully insured or with a Rugby Ontario club.
http://www.fletchersfields.ca/
Questions to technical@torontorugby.ca
****Please post to your clubs message board.