Become Elite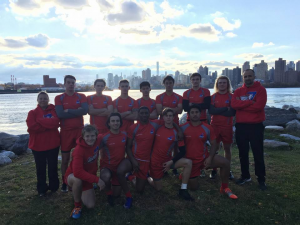 Elite Red's
High-Performance Pathway Academy
TRU Elite Red's introduces "Become Elite" Academy Program with Athlete Participation Support Program to offset costs of the academy, travel, accommodation, kits, training, tournaments fees and costs associated with a High-Performance System. This complete academy offers Rugby Canada National Key Themes Based Core Skills, Pathway-based Tactical systems used provincially and nationally, delivered by certified provincial level coaches and assistants from Rugby Ontario & Rugby Canada.
This is a complete program that includes Sports Psychology sessions from national experts such as Dr. Natascha Wesch leading sports physiologist, world cup player, and National Coach, to deliver three sessions about mental conditioning for the academy's High-Performance athletes. Our mandate of Red to Blue to Red is our goal but development will be the focus and process over outcome. We want to prepare our players at an early age for elite rugby, but also for their future life skills.
Respect, Passion and Commitment is our foundation.
If you want to become an Elite Red's athlete please join us at one of our Talent ID sessions and register @torontorugby.ca
***To receive information on how to Become Elite and attend our information session register below. Applications are reviewed and can be approved within weeks so athletes can start obtaining access to the program and its benefits well before the Fall 7s season. 
TRU "Art for Athletes" program will be announced in the next few weeks but donations are already coming in to help support young athletes in their Quest to become Elite. If you have any Art you would like to donate please contact technical@torontorugby.ca.  If you would like to support an athlete in your community and receive a Gallery Quality Toronto Landscape Valued at $150 please also contact us for details. Let your old Art become VALUED for the next 30 years with the young heart of an athlete.