Toronto Elite Reds Announces Academy Women's 7's team for the fall of 2017
|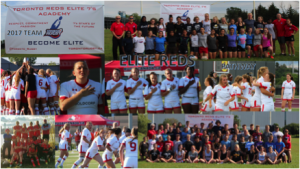 Toronto, Ontario, Canada – September 2nd, 2017
Toronto Rugby Union
John Pryce, Toronto Rugby's Technical Director, has announced Toronto Elite Reds Academy Women's 7's team for the fall of 2017. After holding four ID sessions with the help of Rugby Canada, The Elite Red's coaching staff has narrowed down 60+ female athletes to an elite squad of 24 players. Those selected are from 13 clubs from all over Ontario, from Barrie to Oakville, to represent the U17 & U17 Elite Reds for the 2017 fall season.
"It's such an exciting year with the Academy and the support from Rugby Canada. Many thanks to Sandro, Andrew and Kris of Rugby Canada for their support locally and Megan Howitt and John Tait from the west coast," said Pryce. "We hope they will join us next year at our official opening and launch of the Academy."
The Elite Reds women's teams will be anchored by Canada U18 standouts, #8 Celia Martensson, and #12 Lily Stewart, who have both just come off a recent Canada & USA double header in Ottawa this past summer.
Adding depth are returning veterans Hannah Fitzgerald, Aly Troiani Nerine Hill, Kiera Kuebeck & Asia Hogan Rochester.
The Elite Reds are happy to welcome future young talent to the program, like Kennedy Feasby, Beth Cudmore, Joleen Mason, and Mikaela Kyke. They'll give depth into the Reds for the 2018 season and Ontario Summer Games.
Coach Dallas Price of the Markham Irish, Gareth Williams of the Toronto Scottish, and Ken Fitzgerald of the Belleville Bulls will test them physically and mentally leading up to the TIRF, MAG 7's, Q-Meta and NY 7's tournaments.
The new Elite Reds Academy 7s pathway program is aligned with Rugby Canada and uses the New National Key themes, systems and development activities the National teams use. Coaches & players have been working with Rugby Canada staff learning the systems and strategies. The effect of Rugby Canada's involvement has accelerated the Red's program as the TRU drives to make the Academy fully accredited nationally within 2 years with the support of corporate sponsors.
"This is the future approach," says Pryce, "we have been researching a combination of successful new programs using different frameworks from Academy's in British Columbia, the United States, and the United Kingdom. We have a hybrid model that we believe will work to get players excited about High-Performance Academy programs and will bring additional value. The program will encompass mental conditioning, athlete's profiles for scholarships, athlete financial assistance programs, and life skills. Our program is designed to help build young professional athletes."
The framework of the program will allow players to develop in a high-performance elite program at a young age regionally under a subsidized and sponsored budget.
"This type of Pathway approach within an Academy delivering professional level national programs is the way of the future. We need to maximize our player's exposure & profiles at an earlier age so they can compete internationally and get the exposure they deserve", Pryce said.
ELITE REDS SELECTION:
Alessandra Troiani: Aurora Barbarians, ER 2016, and Team Ontario
Aman Gill: Oakville Crusaders
Angelina McCuaig: Toronto Dragons, Development player
Asia Hogan Rochester, Toronto Nomads, and Team Ontario
Bethany Cudmore: Barrie RFC, and Team Ontario
Bianca Pienaar: Oshawa Vikings
Brooke Borgatti: Peterborough Pagans, and ER 2016
Brooklynn Feasby: Oshawa Vikings, Team Ontario 2016, ER 2016 & Team Canada
Celia Martensson: Aurora Barbarians, Team Canada, and ER 2016
Claire File: Oakville Crusaders, and Team Ontario
Claire Gallagher: Aurora Barbarians, and Team Ontario
Hanna Fitzgerald: Belleville Bulldogs, Team Ontario, and ER 2016
Joleen Mason: Belleville Bulldogs, Team Ontario Central hub, and ER 2016
Kati Hay: Balmy Beach, and Team Ontario
Katie McLeod: Aurora Barbarians, and Team Ontario
Kendra Scott: Cobourg Saxon's, and Team Ontario Central hub
Kennedy Feasby: Oshawa Vikings, and Team Ontario
Kiera Kuebeck: Oshawa, and Team Ontario
Lauren Larkan: Oshawa Vikings
Lily Stewart: Peterborough Pagans, and Team Canada
Margarita Liubetskaya: Cobourg Saxons
Megan Robertson: Ajax Wanderers
Mikaela Kyte: Barrie RFC, and Team Ontario
Nerine Hill: Cobourg Saxons, Team Ontario 2016, and ER 2016
Sarah White: Peterborough, and Team Ontario
Suzanne Aasheim-Sorensen: Peterborough Pagans, and Team Ontario
Tiarra Hudson-Reimer: Ajax Wanderers, and Team Ontario
Director of High Performance
Toronto Rugby Union and Elite Reds
John Pryce
technical@torontorugby.com