Toronto Elite Reds Announces Academy Men's 7's team for the fall of 2017
|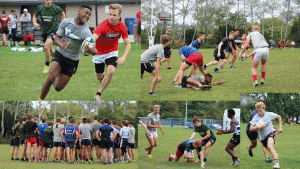 Toronto, Ontario, Canada – September 12th, 2017
Toronto Rugby Union
Elite Reds 7's Academy Men's Teams
The Toronto Rugby Union has announced Toronto Elite Reds Academy Men's 7's teams for the fall of 2017.  After holding three ID sessions with the help of Rugby Canada, the Elite Red's coaching staff has chosen an elite squad of 24 players. Those selected are from all over Ontario, from Barrie to Oakville, to represent the U16 & U17 Elite Reds for the 2017 fall season.
The men's Elite Reds has up-front power and size in Ben Burnside, Josh Barss and Liam McLaughlin combined with strong back speed from Canada 7's player EJ Rerri, and veteran Matt Hollett. "We expect some exciting play from Oliver Page, Adam McNee, Keagan Reed, and Isaac Kelly," said John Pryce, Technical Director of the EliteRedss. "It's a well-rounded group of U17s, led by Canadian player Carson Young who will captain the Elite's team into the Toronto Inner-city Rugby Foundation (TIRF) and WHITU 7's tournaments in Ottawa later on this month".
The Elite Reds U16 team will also field a talented group as they will face tough competition this fall and grow as a group in a two-year cycle, peaking at the Ontario Summer Games in 2018.
"Elite Reds will travel to Ottawa to attend the WHITU tournament with four Elite Reds teams training at Ottawa U thanks to the support of the Gee Gee's and special thanks to Jen Boyd, Duncan McNaughton and Richard Verreault for their additional support on such short notice". "Both Jen and Duncan have always shown tremendous support of the Elite Red junior programs, which I'm sure is a key reason they attract great new talent each season and build successful programs," said Pryce.
Coach Don Malliet & Coach Nico Pinaar will lead the teams into the TIRF, WHITU, Q-Meta and NY 7's tournaments this fall.
The new Elite Reds Academy 7's pathway program is aligned with Rugby Canada systems and uses the new national key themes and development activities the Canadian national teams use.
The framework of the program allows players to develop in a high-performance elite program at a young age regionally under an academy structure.
Men's Elite Reds Selected for 2017 Fall
Toronto Elite Reds Men Staff
| | |
| --- | --- |
| Name | Teams |
| William Daniel | Team Ontario and the Toronto Nomads |
| Oliver Page | Markham Irish |
| Steven Giacometti | Markham Irish |
| Ben Burnside | Team Ontario and the Cobourg Saxons |
| Adam McNee | Cobourg Saxons |
| Josh Barss | Team Ontario and the Cobourg Saxons |
| Matt Hollett | Team Ontario |
| Kegan Reed | Cobourg Saxons |
| Spencer Canavan | Oakville Crusaders |
| Carson  Young | Team Canada, Ontario and the Oshawa Vikings |
| Liam McLaughlin | Team Ontario and the Ajax Wanderers |
| Jared Augustin | Team Ontario and the Oshawa Vikings |
| EJ Rerrii | Team Canada, Ontario and the Oakville Crusaders |
| Isaac Kelly | Cobourg Saxons |
| Aidan Ste. Marie | Barrie RFC |
| Nicholas Harington | Oakville Crusaders |
| Jared Cresswell | Ajax Wanderers |
| Alex Kropman | Ajax Wanderers |
| Campbell Hunter | Team Ontario and the Toronto Saracens |
| Jackson Eales-Harwood | Team Ontario and the Oshawa Vikings |
| Colin Bryan | Team Ontario and the Toronto Saracens |
| Liam Skelly | Barrie RFC |
| James Neale | Team Ontario and the Toronto Saracens |
| Dylan DiGirolamo | Team Ontario and the Aurora Barbarians |
| Ryan Jones | Oshawa Vikings |
| Kobe Faust | Oshawa Vikings |
| Armand Pienaar | Team Ontario and the Oshawa Vikings |
| Cole Ferraro | Oshawa Vikings |
| Liam Ste. Marie | Oshawa Vikings |
| Kalen Haggarty | Team Ontario and the Oshawa Vikings |
Technical Director
Toronto Rugby Union and Elite Reds
John Pryce
technical@torontorugby.com